Construction Software

Oracle Primavera Software designed With Construction Professionals in Mind
Primavera P6 Provide the Most Reliable Service in the Industry
Our experience and relentless attention to quality deliver solutions that meet the demands that face todays construction industry. Response time and efficient service are critical to any organization. Don't struggle with slow decision making due to lack of information? PSG serve as your go-to technology partner, constantly providing and anticipating your business and technology needs.
Today, construction projects are faced with unique conditions that require new approaches in satisfying demands and contractual requirments. The architecture and structure of many projects require the ability to accommodate and adhere to the recent business implications and continually changing guidelines. Prescient Solutions Group is your go-to technology partner for Primavera P6 Software, constantly anticipates and researching the trends to ensure your business and technology needs will be met. Let PSG help you eliminate the challenges and help you receive the return on Primavera Software you require.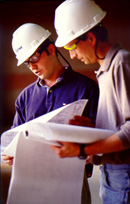 Primavera P6 Project Services
Prescient Solutions Group has built an outstanding reputation by providing well-planned and executed projects in accordance with best industry practices. Prescient Solutions Group highly skilled engineers and our vast array of vendor certifications ensures that we are ready and able to implement the industry's leading solutions. In addition, our professional project management staff provides our customers with detailed project planning, tracking and staff management to make sure the projects are completed on time and on budget.

IPM Construction Software

IPM Project Management Software was developed to meet the needs and requirements of Project Managers & Construction staff and to operate how they already think!

IPM is a web based project management system built entirely within Microsoft Outlook. This easy to use program makes moving information and communication easy and efficient. Being web based, IPM can be taken anywhere you need it for constant up to date information. With in depth dashboards and reporting, you can easily keep tabs on everything from submittals to RFI's.

Presented through Microsoft Outlook and seamlessly integrating mail and calendar services with day to day operations, IPM puts project management squarely where project staff spend most of their time.

If you would like to get started today please submit a demo request form and we will get in touch with you to discuss what you would like to see in your personalized presentation.