Energy Software

Primavera P6 EPPM for Energy & Utility Services
Energy Sector Clients Benefit from Oracle Primavera P6 Project Portfolio Management
Balancing your company's capital investments, maintenance operations and resource allocations are all important factors in the success of your business. That's why it's critical to ensure that your maintenance and capital projects are fully aligned with company strategic goals and are delivered on-time and within budget.
With Oracle's Primavera Project Portfolio Management solutions, oil and gas companies are able to meet their CapEx goals, overcome resource shortages and capture best practices, lower OpEx costs, and manage and mitigate project risks while delivering projects with higher ROIs.
Discover how a single management solution can drive various capabilities, including:
Absolute alignment between company strategy, execution, and results
Managing the program lifecycle from idea to execution
Project cost controls and financial management
Transparency and visibility into business decisions
Internal and external resource management
Prescient Solutions Group leverages a proven methodology to assist you in anticipating future business needs and requirements. The energy services and utilities industry is complicated with hundreds of laws, regulations, codes, and regulatory agencies that affect the way you do business.
Technology Solutions That Provide the Most Reliable Service in the Industry response time and efficient customer service are critical to all organizations. Do you struggle with decision making due to the lack of quick information? Let Prescient Solutions Group serve as your go-to technology partner, constantly providing and anticipating your business and technology needs.
Prescient Solutions Group has been working with utility companies for more than 25 years. We use our domain knowledge of your industry to ensure that every software solution we develop is 100% compliant with the industry and your corporate strategy. Focusing on quality and ever-changing industry needs, we deliver solutions that will accelerate your business and exceed expectations.
Solutions That Make Your Company's Growth and Profit Objectives Possible.
As a decision maker with-in your company, you require solutions that not only work, but also fit into your overall business strategy. At Prescient Solutions Group , we leverage your investment in technology to create solutions that add value while working within your business model. Prescient Solutions Group Corp your go-to technology partner, constantly anticipates and researches the trends to ensure your business and technology needs will be met. Let Prescient Solutions Group help you eliminate business challenges and help you receive the tangible return on technology investments you require.
Project Services
Prescient Solutions Group has built an outstanding reputation by providing well-planned and executed projects in accordance with best industry practices. Prescient Solutions Group highly skilled engineers and our vast array of vendor relationships ensures that we are ready and able to implement a leading IT solution. In addition, our professional project management staff provides our customers with detailed project planning, tracking and staff management to make sure the projects are completed on time and on budget.


Enterprise Change Management
Disconnected change processes are an unfortunate reality for most organizations, as there is no true linkage between all of the systems used to manage change. Change is managed today in silos of automation that are optimized for the people and processes they support but disconnected from one another. These separate domains, multiple methods and disconnected automation tools limit visibility, reduce control over the process and introduce a greater potential for errors, resulting in a set of processes that are managed in disparate systems that create silos of change automation. Although locally optimized, there is no global visibility to the cost of change.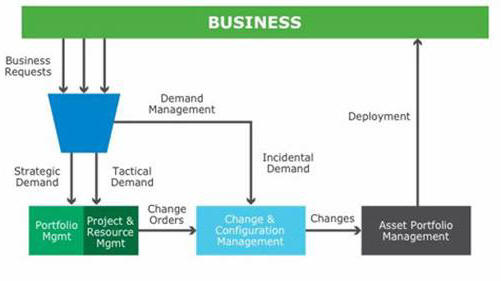 Primavera can seamlessly integrates with the Service Desk, Change Management and the Asset Management tools systems to comprise a composite system for end-to-end change management. This system provides a unified and integrated process that spans project and portfolio management, service desk, asset management and software change management, enabling IT organizations to incorporate best practices and workflow to automate all change activities -- from change prioritization, impact and cost assessment, review and approval, to release and deployment. By providing complete cost and resource visibility for the change process, throughout the change lifecycle.
Key Benefits of Integrated Change Management:
Reduces costs and risk of errors by unifying and automating the entire change management lifecycle.
Ensures the most efficient and cost effective use of IT resources by providing complete cost and resource visibility for the change process.
Increases efficiencies and accelerates deployment by employing process-driven integration and best practices.
Supports the IT-business alignment process by prioritizing change according to business impact.
Mitigates risk through change impact assessment and by supporting compliance related control objectives.