JD Edwards
Connect Primavera P6 & JD Edwards EnterpriseOne
The Oracle Project Portfolio Management Integration Pack for Primavera P6 and JD Edwards EnterpriseOne is pre-built integration to provide an end-to-end Enterprise Project Portfolio Management solution. This enables Primavera customers to combine the project, portfolio and resource management and scheduling power of Primavera P6 with the power of JD Edwards EnterpriseOne financial management.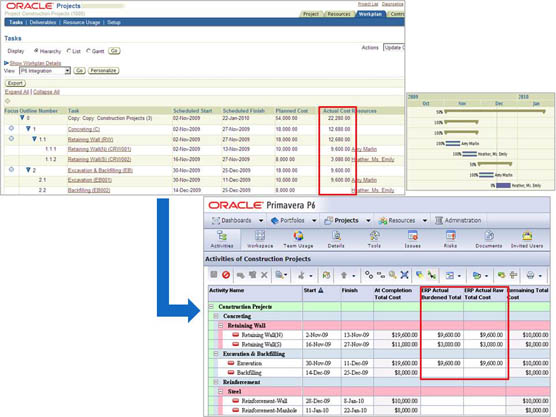 Key features include:
Customize how information is shared between JD Edwards EnterpriseOne and Primavera P6
Synchronize Projects, Structures, Budgets and Actuals
Synchronize detailed project work plans, resource assignments, and progress
Synchronize Primavera P6 timesheet information to JD Edwards EnterpriseOne
Connect Primavera Contract Management and JD Edwards EnterpriseOne
Features and Benefits
The JD Edwards EnterpriseOne Integration to Primavera Contract Management helps organizations overcome fragmented processes that lead to lack of business alignment, low predictability in project execution and performance, and inconsistency in business decision-making.
The integration provides the following features:
Change and issue management capabilities help ensure all stakeholders are aware of changes to both projects and purchase orders;
Role-based participation that enables users to use the application that is relevant to their role in the organization and within projects, while information flows freely across applications; and
A global business platform to help organizations standardize and simplify project management.
The integration helps organizations achieve:
Consistency in project-related reporting from financial and project management systems;
Reduced project risks by ensuring all stakeholders are making decisions with the same information;
Alignment between organizational strategy, project execution, and results;
Clear oversight of project costs and financial management;
Governance over project-related decisions; and
A single version of truth about the organization's projects and subcontracts.