Technology
Don't waste valuable resources on things that don't matter.
Drive Down Operation Costs: Save time, standardize, and focus resources
Every group or division within an organization is under pressure to prove their value to the organization. This is especially true for IT, where executives and managers are routinely required to do more with less. At the same time, these same executives and managers are tasked with delivering the same level and quality of service to its customers, while reducing its ever-expanding backlog of projects, and managing a large inventory of assets.
Prescient Solutions Group (PSG) experience and relentless attention to delivering solutions that meet the demands facing your organization. Don't struggle with slow decision making due to lack of information? Let PSG serve as your go-to technology partner, constantly anticipating and researching the trends to ensure your business and technology needs will be met. Prescient Solutions Group will work to eliminate business challenges and help you receive the tangible return on technology investments you require.
IT Governance
IT organizations are faced with two critical problems: how to maximize ROI and how to demonstrate greater value to the businesses they serve. IT Governance can solve these challenges by aligning their goals with the business units they serve, and, at the same time, improving the delivery of projects and services.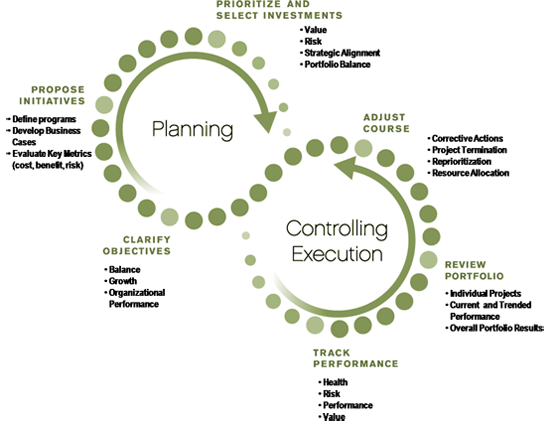 Oracle Primavera for ITG strengthens the relationship between IT and business through enhanced decision-making on IT services and efficiency improvements.
Oracle Primavera for ITG extends beyond traditional strategic portfolio management. It gives your IT organization a single system of record for comprehensive portfolio management. In combination with the core capabilities of Oracle Primavera, the following capabilities deliver a comprehensive solution to support IT Governance:
Scalability, structure, and flexibility needed to work in any IT environment, and help build systematic IT Governance process.
Informed IT decision-making that leads to better alignment between IT and the business.
Best-practice project execution and resource optimization that leads to greater IT efficiency
Minimum risk deployment, ensuring end-user empowerment and driving maximum value
100% financial transparency of all of your IT services.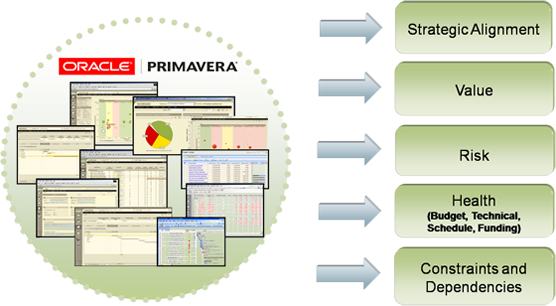 IT Portfolio Management Provides
rich collaboration, knowledge management and best practice methodologies for cross-functional work teams across the entire extended enterprise.
Requirements Planning
Allows users to capture business value in the form of requirements, evaluate and prioritize these requirements into high-level release plans, and construct a road map of the release schedule, describing what will be built and when.
IT Financial Management
A single IT finance system of record that maps IT costs to services consumed, dynamically analyzes the impact due to budget changes, provides a detailed invoice for IT services, and provides an audit mechanism for all IT cost changes.
Business Relationship Management
Ensures that services are aligned business customers' needs by defining and managing business agreements for IT services.
IT Management Integrations
Includes out-of-the-box integrations that allows organizations to integrate human resources, financial and expense information into Oracle Primavera for ITG
View Data Sheet:
Process Assessment